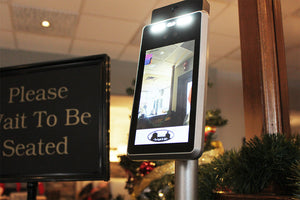 Meet JANUS: Public Health & Safety AI Tech For Businesses
Meet JANUS, another fresh example of safety and business efficiency technology that is affordable for small businesses to cope with these challenging times - brought to you by Solutions Into Motion.
Seventeen years ago, Solutions Into Motion was formed as a small business to service small businesses. Our objectives remain clear...to make big business solutions available to every business. 
JANUS touch-less facial recognition and temperature detection technology is a natural fit and allows small businesses to utilize artificial intelligence (AI) in a simple, affordable way.
JANUS is a powerful Linux based AI unit that can be set up at any door or entry way. JANUS will check for the proper wearing of a mask, provide a rapid temperature check, identify staff and all registered entrants, and can even grant access by locking/unlocking the door. This unit is in place at airports, schools, factories, service centres, dealerships and restaurants.
JANUS is already attracting a lot of positive media attention, and has been seen in multiple business and consumer news reports. Grab some Good News attention to your business. JANUS will highlight how your small business is committed to keeping your clients and staff safe and in many cases will present an immediate media ROI.
JANUS aligns with your goals and can be provided with "plug & play" functionality with zero IT support required, or the system can be customized to meet wider business needs.
Read about how JANUS is helping small businesses
---