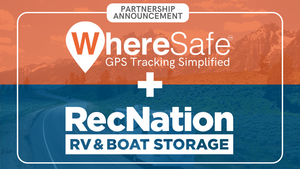 RecNation RV & Boat Storage Links Up with WhereSafe GPS To Further Secure Client Assets
Dallas, TX, February 28th, 2023 – RecNation Storage ("RecNation"), a leading owner, operator and developer of specialized recreational vehicles and marine storage facilities, announced the launch of RecNation Rental, a white-glove, peer-to-peer RV rental startup that will allow RecNation customers to rent their vehicles and earn additional income without lifting a finger.
RecNation has selected WhereSafe GPS as a vendor partner to offer its RV renters real-time GPS tracking as a value-added service for its RV renters.
RV owner customers of RecNation who wish to rent their RVs, will now get easy access options to protect their RV investment with WhereSafe real-time GPS tracking. Within the RV space, specifically RV rentals have shown substantial demand for GPS tracking tech, to allow owners to keep track of their RV while it is in the hands of a rental customer. Offering GPS tracking alongside this rental service that is easy, secure, and truly hands off for the RV owner.
"With the launch of RecNation Rental, we are excited to now offer a leading GPS tracking add-on to our new service. We are committed to being the premier RV storage provider, as well as a full-service recreation hub and security services provider to our customers,"
says Gary Wojtaszek, CEO & Founder at RecNation.
"When researching GPS tracking partners, my team kept coming back with one name – WhereSafe. Their solutions coupled with recognition in the RV space, made for an easy decision."
RecNation Rentals RV owners who elect to use WhereSafe GPS, will first and foremost have another layer of added security built into their RV, while it is being stored in an already secure RecNation facility. Further to that, renters can know exact location status of their RV, while it is being rented. Text, push or email alerts can be set to notify an owner if the RV enters or exits any restricted areas (eg. Crosses a border or goes into Manhattan). Speed and driving behaviour data and notification can be used to ensure the RV is not being abused. Renters can know exactly the time the RV leaves the RecNation Storage facility and exactly when it returns and obviously, if it does not return, they will know it's exact location in real-time. Also depending on insurance providers, potential 10% discounts on RV insurance premiums exist, when a GPS tracker installed.
"Over the past few years, we have become the trusted GPS provider to RVers, across North America. More recently as we analyze our customer base in RV, we have seen major growth for those who rent,"
says Conrad Galambos, President at Solutions Into Motion, the company who owns WhereSafe GPS.
"Our solution is extremely affordable, especially when compared to the size of investment an RV can be, and the uses and benefits for an RV renter are obvious."
RecNation Rentals is now offering WhereSafe GPS directly to its RV owner rental customers.
About RecNation
RecNation acquires, builds and manages specialized RV and Boat storage facilities across the United States. The company was founded to meet the burgeoning storage requirements of the owners of recreational and marine vehicles. As the first institutional grade, specialized storage company created to serve the growing storage needs for both recreational and marine vehicles, RecNation has solidified its position as the leading recreational storage operator in the nation. Since its inception in 2021, the Company has significantly expanded its footprint across Texas, Florida, Arizona and Kansas to serve a growing community of outdoor and recreational enthusiasts seeking a secure facility to secure their vehicles.
About Solutions Into Motion:
Solutions Into Motion (SIM) is a Canadian company, based in Brantford, Ontario, providing real-time, simple to use GPS tracking hardware and mobile application software for business management, asset protection/monitoring and family safety. SIM's first and flagship real-time GPS business solutions brand is Trackem GPS. In 2019 the company moved into the consumer and family safety GPS tracking space, with the launch of the popular WhereSafe GPS brand. Solutions Into Motion has been in operation since 2004 and services business and consumer clients across North America. For more information go to trackem.com, wheresafe.com or follow @WhereSafeGPS on social media.
-30-
For more information or media interview requests contact:
Shaun Gratrix
WhereSafe GPS
shaun@wheresafe.com
1-866-868-7225

or

Kait Wojtaszek
Director of Business Develoment
RecNation
kait@recnationstorage.com
513-378-9136
---