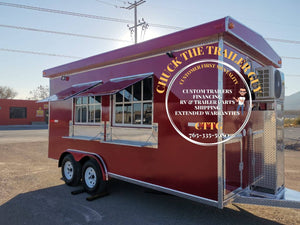 High-End Custom Trailer Builder G2G Trailers Becomes WhereSafe GPS Dealer
G2G Trailers is the newest dealer of WhereSafe real-time consumer GPS products and services. The design/builder of high-end custom enclosed trailers, operating out of Indianapolis, is the latest example of a growing trailer and RV business for WhereSafe.
G2G Trailers designs and build trailers for a variety of uses, such as auto racing, medical, military, police, food services, gaming, luxury travel and more, to clients across North America. These trailers can range in value from $15,000 to $150,000 depending on the complexity, technology and equipment requirements. G2G trailers can be extremely sophisticated, with built in satellite tech, multiple display monitors, lighting, appliances, computer systems, thousands of feet of wiring, automated systems, extensive battery banks and so much more.  
"Considering the high investment value of my clients, in a G2G trailer, it only makes sense that it comes with a real-time GPS tracking option," says Chuck Winslow, CEO at G2G Trailers, or known on social media as Chuck The Trailer Guy. "Let's also recognize that inherently these trailers are naturally going to be in motion and at different locations often. A majority of my customers use these for business and GPS can help drive efficiencies and protection into their business assets," he adds.
Chuck The Trailer guy has been building customer trailers for 18 years and seen every variety of high value assets hauled in his units. The type of gear ranges from race cars, to medical equipment, to hunting gear, to ATVs and Snowmobiles, to tools and work equipment, to high end sports cars and more. Often it is not only the trailer that needs to be protected, but the high value cargo.
"Trailer owners are increasingly seeing the benefits of GPS tracking and demand in this sector is rising. They seem particularly interested in portable magnetic trackers that can be placed anywhere on a trailer, and moved instantly to any other asset," says Vince Poloniato, President at Solutions Into Motion, who operate WhereSafe and Trackem GPS brands. 
For that reason, G2G will focus it's WhereSafe sales on the portable magnetic line of GPS trackers that can be easily moved between trailers and equipment.
The three main products OTP plans to sell are the
These products all have magnetic and other mounting options allowing to mount on virtually any surface and are perfectly designed for trailer applications. Each are rechargeable with batteries that can last (depending on the product) from one month to over one year on a single charge. These trackers are rugged and water and dust resistant rated to IP65 or better.
To learn more go to www.g2gtrailers.com or www.wheresafe.com  
---