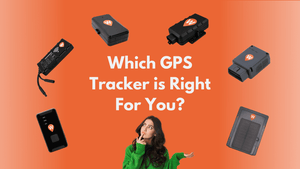 Which GPS Tracker is right for you?
Portable GPS Trackers
Do you have multiple cars, or a boat or RV or ATV or trailer? If so, a portable, rechargeable GPS tracker might be best for you. These GPS devices can be moved from vehicle to vehicle and even put into the knapsack of a child or on the belt of a senior. 
WhereSafe offer 3 Portable Rechargeable GPS Trackers: 
MagTracker
The WhereSafe MagTracker or Magnetic GPS tracker, is battery powered and can last up to 6 weeks on a single charge. Its strong built-in magnets allow it to be easily installed onto any magnetic surface or the adhesive mount can be stuck to any other surface the MagTracker attached to that. It can be placed on a car or trailer frame, under a seat, in a cabinet of an RV, even in a backpack and much more. 
XTracker Solar
The WhereSafe XTracker Solar is an extended battery GPS tracker that features an integrated solar panel for self charging. This device can be mounted to any surface via its standard mounting cradle or using its magnetic cradle it mounts easily to any magnetic surface. The XTracker Solar can also be wired direct onto a power source using the optional trickle charger. This GPS tracker is perfect for RVs, boats, trailers, and assets in storage or at remote locations. 
MiniMax Tracker
The WhereSafe Minimax is a small and very flexible GPS tracker. The MiniMax offers accessories to allow it to be used in a few different ways. In the MiniMax Sheath, it can be worn on a belt or with a lanyard for tracking children or elderly loved ones. In the magnetic case it is waterproof and easily placed on a car, trailer, generator, golf cart or ATV. The MiniMax can last multiple weeks on a single charge and can last even longer when wired to a 12V power source with its trickle charger. 
Hardwired GPS Trackers
Hardwired GPS trackers should be installed by a professional automotive technician. That said, our hardwired units are not complicated installations and only require 3 wires (power, ground and ignition). Hardwired GPS hardware is installed permanently and cannot be easily moved between different vehicles. They do not require recharging and once installed are virtually maintenance free. Ours feature emergency back-up batteries that can last a few hours, in the event the wires are cut and tracking is still needed. 
Sport Tracker
The WhereSafe Sport Tracker is very popular for motorcyclists, powersports enthusiasts and people who want to install a small discreet GPS unit into an asset and forget about it. This unit is a simple 3 wire install to power, ground, and ignition, and can be covertly hidden in a vehicle, ATV, or motorbike, anywhere. These trackers are simple, versatile, reliable, and very affordable. 
Plug-In GPS Trackers
OBD Tracker
The WhereSafe OBD Tracker is meant for cars, vans, SUVs, pick-up trucks, and some RVs. This GPS tracker easily plugs directly into the OBD II (On Board Diagnostic) port, usually just under the steering wheel, which are in all passenger vehicles built after 1996. These are literally plug-n-play directly into the OBD port or use a Y-cable to leave that port still open and hide the OBD Tracker in the vehicle. The best part is that anyone can install these, there is no need to have a professional do it. 
---