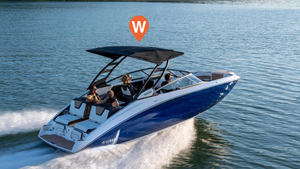 GPS Tracker for Boats Theft Often Required for Insurance Coverage
WhereSafe recently spoke to one of their customers, Don from Mount Brydges, which is just outside of London, Ontario. Don has been a loyal WhereSafe GPS customer for about a year, utilizing the popular MagTracker (Magnetic GPS tracker) as a reliable GPS tracker for boats. His previous boat was equipped with GPS tracking, and when he purchased a new one, he realized the necessity of obtaining another GPS tracker for boats, albeit for a different reason this time.
DO I NEED GPS TRACKING FOR MY BOAT? 
His situation for needing GPS tracking technology was somewhat unique, however, it is becoming a much more common reason. Don's boat insurance company required him to get a GPS tracker, in order for them to provide the theft coverage he needed for his boat and watercraft insurance policy. The boat is a 25-foot Yamaha Jet boat, that the insurer has deemed a high theft target, as they do other jet and ski boats.
PROTECT YOUR BOAT FROM THEFT WHILE IN STORAGE
Don was storing the boat, during the boating season when not on the water, at a local RV storage facility. The insurance broker asked him about that facility, and if it was fenced in or not, which it is not. Therefore, the insurer explained that they would not cover the boat for theft risk in an open storage area and required a third-party GPS tracker in order for them to provide boat theft coverage.
Don sent the insurance company all the required information about the WhereSafe GPS system. They required a system that was aftermarket and provided real-time notifications for unauthorized movement. WhereSafe checked the boxes, and the theft coverage was granted. 
BENEFITS OF A PORTABLE GPS TRACKER 
Now Don gets full insurance coverage and the other benefits of a leading GPS tracking system for his boat. Further to that, Don and his family also have an RV. With the MagTracker he can quickly move the GPS device from the boat into the RV. During winter Don brings the RV down to Florida, leave it there and they travel back and forth a number of times between home and the RV. When they are not with the RV and it is so far away, they leave the MagTracker in it. This way, if the RV ever moves when it should not, Don will get an instant notification to let him know. 
"First and foremost, given the value of our boat, we needed to make sure that we had ample insurance coverage for it in case of theft. We were happy to protect the boat with WhereSafe GPS, because it satisfied our insurer, gave us peace of mind, and was a flexible solution that we can use to protect our RV as well," said Don from Mount Brydges, Ontario.
---